The following new and enhanced features are available in Build 5203 and higher.
For instructions on how to upgrade, click here.
________________________________________________________________________________________________________________
New and Enhanced Features
Update Items for ADA 13th Schedule
As of 01/07/2022 the 13th edition of the Australian Schedule of Dental Services and Glossary will come into effect. Follow instructions in this article to update the items within Dental4Windows.
Prescriptions Per Provider Report

A new report that shows prescriptions issued within a period of time, grouped by Providers or by the medication prescribed. - Prescription by Provider/Medication Report
Appointment Book Cancellation List – Make Notes Editable

Notes can be added to cancellation records to help manage follow ups. See the Add Notes to Cancellations section of this article - Using the Cancellation List
Appointment Class Reports - Add Security

It is now possible to add security on accessing Appointment Class Report and Appointment Class Report (non-financial). Only authorized personnel can run and view these reports.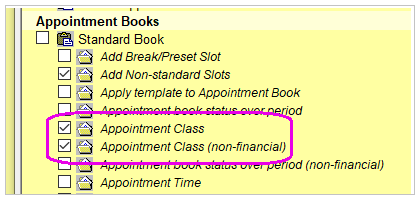 SMS: Send SMS on Check Out

SMS can be sent to patients when they are marked as Checked Out in Appointment Book. See this article for instructions. Setup Automated Patient Check Out SMS
Add Medicare IRN and Expiry date fields

Medicare IRN and Expiry Date can be added to the patient's file.

IRN - Maximum 2 numeric characters

Valid to - Maximum 7 characters and must follow the format MM/YYYY
Payment Surcharge - Make Payment Method Surcharges Mandatory

Payment method surcharges can be setup as mandatory. When processing a payment with surcharge, users must agree to the surcharge to complete the payment. Otherwise, an alternative payment method must be selected.
Ensure Newly Created Providers and Staff are not hidden in Security
When a new Provider or staff is added, their names are shown in Security tab automatically.
Automation: Interface and Batch Enhancements

For Multi-location databases, a Location filter is added in Batches sub-tab. This allows the users to view automation batches from their selected location.

After an automation batch is enabled, users can still check the schedule by clicking Check Upcoming Run Dates.

Treat NULL and Blank as equivalent tick box is added in Automation Simple Queries.

End of Insurance Year (Automation) - The Insurance Plans are now sorted in alphabetical order.
Hide Inactive Providers in Banks tab
Once a Provider is deactivated in Providers tab, they will be hidden in Location Management > Banks tab. They will be automatically removed from the Bank redirections list and Providers list within Banks tab.
To view these Providers again, select Operations menu > Show inactive providers as well, their names will show in Providers list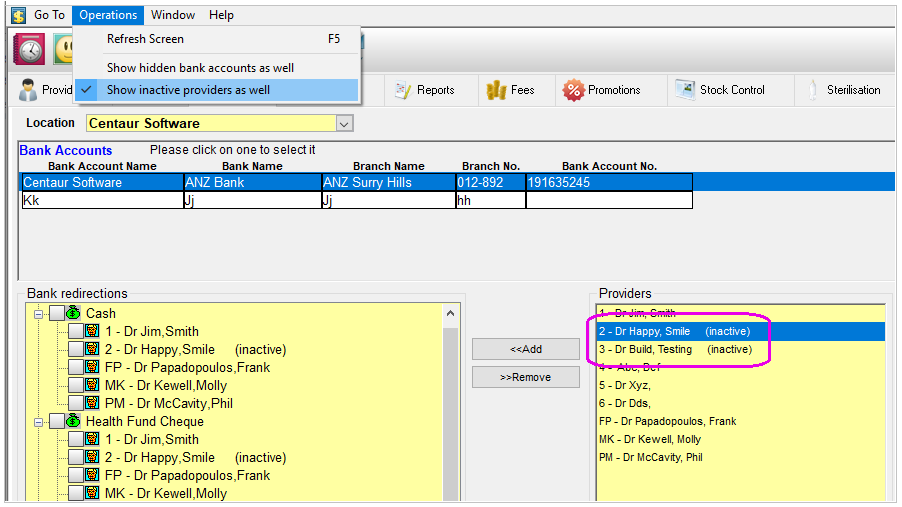 ________________________________________________________________________________________________________________
Fixes
The following issues have been resolved in the upgrade.
eChat messages not archiving

Error when copying an appointment book

Optimization remove reason from presets in appointments and templates - CHECK

Smart Health - Medicare button doesn't show from 'Create Itemised Invoice' - CHECK

WordLink Error 13
________________________________________________________________________________________________________________
The United Arab Emirates Only
eClaims: Add Remittance Transaction Date
A new 'Transaction Date' and 'Days since Transaction Date' column has been introduced in "Submitted Claims: with Remittance" view. This will show the Transaction Date and days passed since the transaction date from the Remittance Advice. Along with that color-code records will be displayed based on "Days since Transaction Date" and will imply as described below
0 – 10 Days                         Sand (the usual color)

11 – 17 Days                       Purple

18 – 21 Days                       Dark Pink

22 Days or More               Grey
For Example
Using the Remittance Transaction Date as 01/03/2022, the following will apply:

Note
Any record that is Reconciled or Resubmitted will be moved from this view, and therefore there is no need to define a color.

Emirates ID now Included in Patient Merge
The process of Duplicate Patient Merge will now merge the Emirates ID Number. This will reflect in the merged patient before deleting the duplicate patient record.

eClaims Reconciliation Report
A new report has been developed on actions taken by the user at the Remittance Advise dialog (i.e. Reconcile the paid amount and Assign the unpaid amount to the Patient and so on).
This report will identify the claim settlement details (which claim is completely settled and for resubmission of partially paid / rejected completely) and to prepare report for the reconciliation.
| | | |
| --- | --- | --- |
| Heading | Source (XML) | Example |
| Facility ID | <Claim><ProviderID> | DHA-F-0049999 |
| Insurance Name | <Header><SenderID> | INS010 |
| Transaction Date | <Header><TransactionDate> | 23/08/2021 16:32 |
| Patient Name | | |
| Patient Card No | | |
| Member ID | | |
| Invoice ID | | |
| Claim ID | <Claim><ID> | DJJ-JAN21-AX10 - DJJ-JAN21-AXA - 10 |
| Start Date | <Activity><Start> | 19/01/2021 0:00 |
| CDT Code | <Activity><Code> | D4341 |
| CDT Description | | Periodontal Scaling And Root Planing-Four Or More Teeth Per Quadrant, SCALING |
| Quantity | <Activity><Quantity> | 1 |
| Gross | <Activity><Gross> | 600.00 |
| Net | <Activity><Net> | 480.00 |
| Patient Share | <Activity><PatientShare> | 120.00 |
| Remitted Amt | <Activity><PaymentAmount> | 0.00 |
| Rejected Amt | <Activity><Net> - <Activity><PaymentAmount> | 480.00 |
| Prior Authorization ID | <Activity><PriorAuthorizationID> | 4025813562 |
| Insurance Comments | <Claim><Comments> | D4341-Periodontal Scaling And Root Planing-Four Or More Teeth Per Quadrant, SCALING &amp; CLEANING CHARGES, Tooth Number: 24, 25, 26, 27-DENT29 - The number of service for the period is already exhausted hence denied |
| Payment Reference | <Claim><PaymentReference> | Rejected |
| Denial Code | <Activity><DenialCode> | MNEC-005 |
| Denial Category | Add the "Category" linked to the Denial Code. | Medical |
| Reconciliation Notes | Any notes added into the "Reconciliation Notes" dialog | |
| Reconciliation Type | Mapped Value of Reconciliation | Partially Rejected |
eClaims: Add Date Filter to Queued Claims
Now there is an ability to filter the Queued Claims list by date. A date will need to be entered to view pending claims
ENHANCE: UAE: Invoice & Receipt preview VAT considerations
The VAT now can be displayed against each item in the invoice as well as the ability to charge VAT based on whether it is a Private Patient or Business as the main responsible party for an invoice. In addition, now there is an ability to assign a Tax Identification Number to Third Parties.
Sample view of Invoices/Receipts Report C view

________________________________________________________________________________________________________________